British Land developments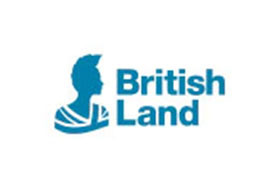 Our strategy leverages our strengths in development, active management and repositioning assets to focus on two key themes – Campuses and Retail & Fulfilment.
Our Campuses provide modern, high quality and sustainable space in some of the most exciting parts of London. The buildings and the spaces between them support the wellbeing of the communities in and around them and are aligned to the changing ways people work.
In Retail, we have expanded our approach to include fulfilment, building on our market leading position in high quality, out of town retail parks which already play a key role in retailers' fulfilment models, and complementing this with development led investment in urban logistics, primarily in London.
Our London campuses
Our three London campuses, Broadgate, Regent's Place and Paddington Central are located in some of London's most exciting neighbourhoods and account for 66.0% of our portfolio. They are well-connected, high quality environments fostering innovation, collaboration and creativity. We are delivering a fourth at Canada Water.
Retail & Fulfilment
Our retail portfolio is focused on out of town retail parks aligned to the growth of convenience, online retail and last mile delivery which we are complementing with an emerging business in urban logistics. Our shopping centres include well located open air and traditional covered centres. Retail currently comprises 28.4% of our portfolio.
Development
Development is an important part of our business. It is a fundamental driver of long term sustainable value and growth and a key element of our investment case. Our most significant opportunity is at Canada Water where we have amassed a 53-acre scheme and are masterplanning a new urban centre for London. It will comprise a compelling commercial and retail offer alongside a range of public and leisure spaces and up to 3,000 homes.
Sustainability
Sustainability is embedded throughout our business. Our places, which are designed to meet high sustainability standards, become part of local communities, provide opportunities for skills development and employment and promote wellbeing. Our continued strong sustainability performance is reflected in our rankings in ESG indices, including a 5 star and a green star rating for the eleventh consecutive year in the Global Real Estate Sustainability Benchmark (GRESB) and AAA rating in MSCI.
Percentages exclude Canada Water and Residential
Figures shown on a proportionally consolidated basis including the group's share of properties in Joint Ventures & Funds