Comer Homes developments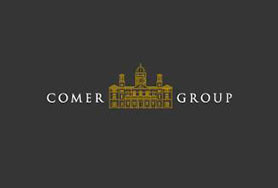 The Comer Group is one of the United Kingdom's largest and most successful property companies. It now has interests that extend into Europe and the United States.
The current business was established over 30 years ago by brothers, Brian & Luke Comer, originally from Co. Galway, Ireland. After a great deal of tenacity and hard work, the Comers have created a leading property company with substantial development and investment interests in a number of market sectors, including: luxury residential homes, office parks, retail parks, hotels and leisure facilities.
With a substantial land bank and an extensive development programme, The Comer Group is continuing it's major expansion in a number of property development sectors. The proven exceptional financial acumen of The Comer Group together with the direct and hands-on management style of the Comer brothers enables it to positively predict trends ahead of the market and capitalise on new opportunities as they arise. A lateral entrepreneurial management structure facilitates rapid transaction completion without a lengthy corporate process that many of it's competitors have to undertake.
Brian and Luke Comer have been instrumental in recruiting and shaping a highly skilled and valuable senior management team of designers, architects and construction professionals. Corporate ethos nurtures and encourages both creativity and innovation, which are hallmarks of the Comer brand.
The Comer Group lead by Brian & Luke Comer has laid a very solid foundation to exploit forthcoming opportunities. Through astute planning and strategy the company is confident of achieving it's ambitious growth plans.
Future success is eagerly anticipated as the company continues to implement it's many development plans with inspiration, organisation, reputation and a highly experienced team.
DEVELOPER OFFERS