Populo Living developments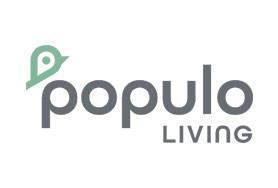 Populo Living: Making Newham home
We're Newham's housing company and our role is to design and build more and better homes for Newham. We design for our customers, paying attention to the big picture and the small details. The result is attractive places to live, built to last, where it's easy to settle in and feel at home.
We provide homes for private rent, social rent and shared ownership, and have already completed four popular developments in Stratford, East Ham, Plaistow and Whitechapel. At least 50 percent of all the homes we deliver will be genuinely affordable, following the criteria set by the Mayor of London.
We also act as the property managers for all of the homes we build, providing a responsive and caring service to our residents.
Our history, Newham's heritage
We started life as Red Door Ventures in 2014 - a company wholly-owned by Newham Council. Our original job was to build homes for the private rental market, generating income for the Council.
Since October 2018, we've had a broader role. The new Mayor Rokhsana Fiaz tasked us with tackling the serious shortage of genuinely affordable homes in Newham. We are onsite now in 12 different locations and aim to have over 1,000 new homes underway by March 2022.
Though some of our homes are wholly new, we're also helping bring back to life buildings and areas that have not been cared for, maintaining Newham's heritage. We've taken on the role of development managers for The Carpenters project and will continue to build on brownfield sites across the borough.
Sustainable and ethical
As any responsible developer should, we commit to meeting or exceeding all green building standards now and in the future. That also means considerate construction, minimising waste, noise, pollution and disruption. For our residents, it means their homes require less energy to run. We also ensure social and green spaces are part of our planning and encourage sustainable travel.
We want to work with local businesses that share our values, investing in Newham and its people. See our current vacancies
We're registering as a social housing provider, and any profit we make is invested straight back into homes for Newham.
Here for the long term
Our backing from Newham Council means we can build for the future and offer stability. As well as public funding, we benefit from access to Council-owned land and property that we can turn into the homes that Newham needs.
With a dozen sites already earmarked for development across Newham, our development plans stretch well into the next decade. You can see that long-term thinking in the way we operate: the quality of our design and building, our commitment to service and management and the way we work and build lasting relationships with trusted partners and suppliers.