Celebrity tailor's penthouse in Mayfair up for sale for £2,500,000
25 Sep 2020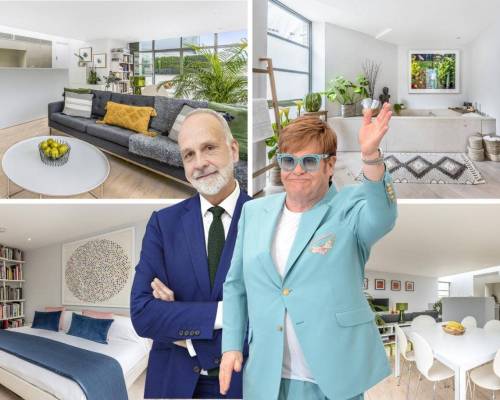 Richard James is a famous Savile Row fashion designer, whose clients were Elton John, Prince William, George Clooney, Hugh Grant and David Beckham. Now his luxurious architect-designed duplex penthouse at the heart of Mayfair could be yours for £2.5m
Richard lived in this apartment for 15 years. Here he designed his famous outfits for celebrities and then completed them at his tailoring shop at 29 Savile Row.
Сouturier's elegant 1,324 sq ft accommodation offers 1,199 sq ft of living space over two light-filled floors with a 125 sq ft roof terrace on the upper floor. The perfectly designed penthouse is located on the top two floors of a boutique building, comprising two bedrooms with a walk-in wardrobe and an ensuite bathroom, a stylish open plan kitchen, a reception room with rooftop views. It is being pitched as "one of the most stylish contemporary apartments in Mayfair."
Robert Britten, said: "The floor-to-ceiling windows fill the living spaces with light and provide a fantastic bright and airy ambience. Finished to an exacting specification the architect designed penthouse provides exceptional open plan living space."
The designer said: "This is the place where I was able to retreat from the bustle of Mayfair to think and create some of my most celebrated work.
"There were many times when you couldn't see the floor of the penthouse for all the magazine and paper cuttings, fabric samples, open books and Swarovski crystals.
"I created the glittering wardrobe for my dear friend Sir Elton John's 'Million Dollar Piano' show at Caesar's Palace in Las Vegas whilst here and found the inspiration for suits worn by Prince William and George Clooney to name but a few.
"The cool and contemporary living space and the wonderful light here made it the perfect environment for sketching and provided the perfect inspiration for many suits, jackets and accessories that formed numerous Richard James collections over the years."
Richard James, also added: "I have loved living in the penthouse but it's time to relax away from the hustle and bustle of life in the capital to enjoy the fresh sea air and some good, long walks across the Sussex Downs."