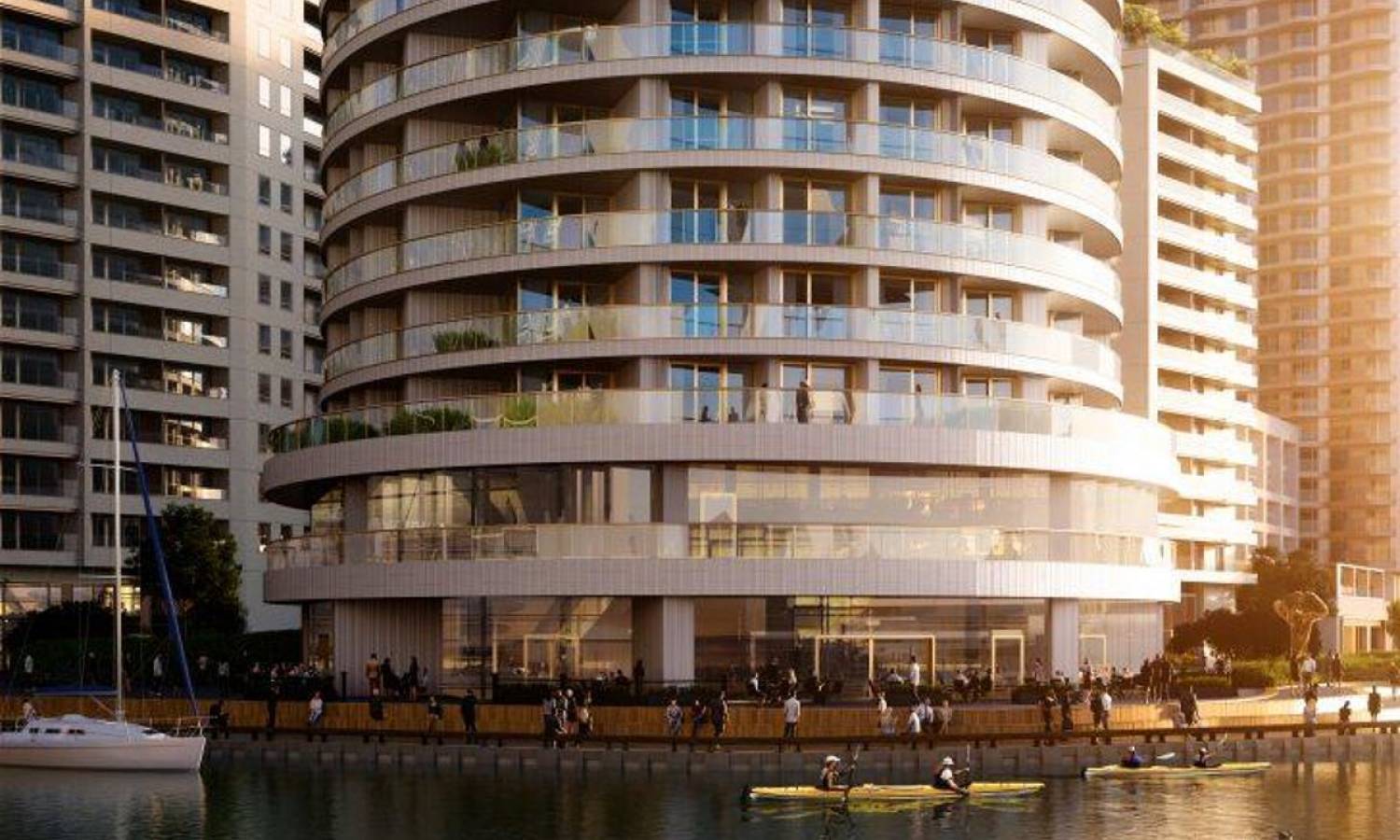 One Park Drive – the treasure of Canary Wharf
One Park Drive development to be, without exaggeration, a true icon of Canary Wharf.
One Park Drive is a development by Canary Wharf Group and has already welcomed its first lucky residents. Splendid facades and public places of the development are perfectly complemented by the wide range of amenities and carefully designed interiors. Even people used to the luxury of Canary Wharf would be amazed by the new benchmark One Park Drive has set for the area.
This development is the second building in the new Wood Wharf district, where new homes are available for private sale. There are also two superb Build-to-Rent (BTR) residential developments next door by Vertus. The first building with private sale new homes is 10 Park Drive. It has been designed by award-winning and world-renowned Stanton Williams architects. The development was completed in 2020, and there are almost no available offers left.
One Park Drive is a majestic 58-storey building with understated appealing shapes that organically set it apart from classy austere business buildings of the Docklands. It is the first residential skyscraper in the UK designed by Herzog & de Meuron studio.
The building is well-located on a site surrounded by 270 degrees of water. It offers striking views across the capital, South Dock, Canary Wharf and the River Thames. The development also has top-notch landscaping and easy access from Park Drive and Harbour Quay Gardens.
There are elegant spaces designed by specialists of GA Group on the lower floors – from a library to a lounge and ante-room with a bar. The amenities perfectly fit and complement the landscaped promenades of the area. There are also smart solutions for online shopping and deliveries offered at One Park Drive.
The first floor of the building boasts top-notch relaxing facilities with panoramic waterfront views, which can be hardly found anywhere else in London. There are seamlessly arranged spa, 20m pool, sauna and dressing rooms available for the lucky residents. There is also a gym with TechnoGym cutting edge equipment and services from private trainers.
The ground floors amenities are not made just to tick a box - they are the finest waterfront spaces that set One Park Drive as a new residential benchmark of Canary Wharf and a gateway to a new promising Wood Wharf district.
Sir George Iacobescu of the Canary Wharf Group has assembled the design team that has delivered first-class quality for this stellar building. The developer's careful attention to the details is hard to miss - there are solutions from exquisite stacked cube cladding to a black marble wall at the reception.
There are 484 apartments of four tiers of size arranged above the ground floor of One Park Drive. Firstly, there are spacious Loft apartments with generous terrace spaces overlooking Canary Wharf and designed by London-based Bowler James Brindley.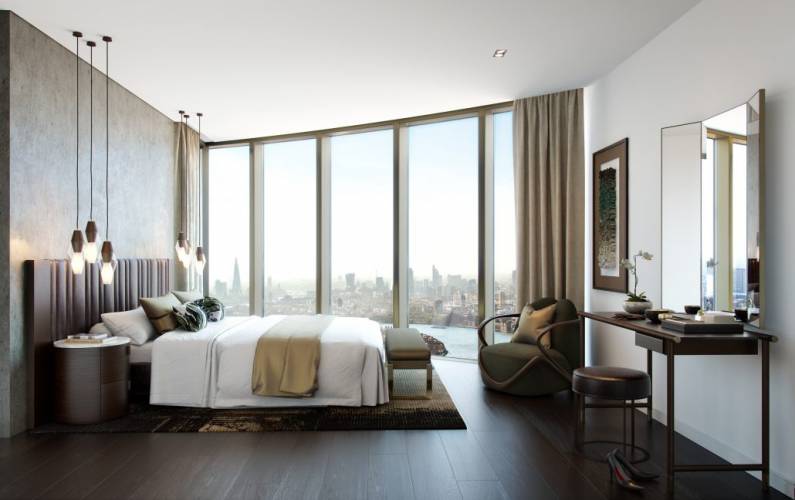 Then comes the Cluster section with studios, 1 and 2-bedroom apartments. Above them, there are Bay style new apartments boasting views of the curved balconies and designed by Goddard Littlefair.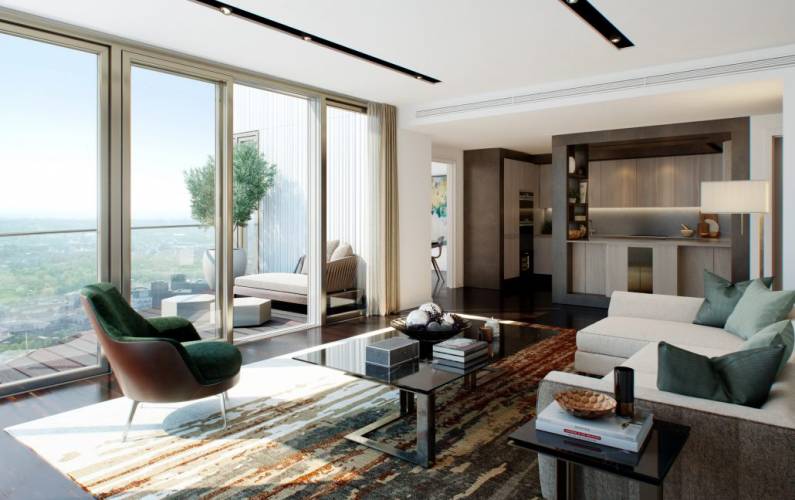 The cherry on the cake of One Park Drive is seven duplex penthouses interior-designed by no one else but Herzog & de Meuron, and which are set to be completed this year.
One Park Drive is one of a kind waterfront location with breathtaking views and well-thought-out public facilities. The area boasts a wide range of retail options and restaurants such as Amazon Fresh, upcoming Hawksmoor, and numerous trendy shops in Canary Wharf Shopping Centre.
The tube station (Jubilee, DLR) is within 5-minutes walk from One Park Drive, and the upcoming Elizabeth Line will offer rides to Heathrow in under 40 minutes.
Public buildings commonly have a greater impact on the city than residential buildings, but One Park Drive in Canary Wharf is an exception. This iconic Herzog & de Meuron's building will set a new benchmark for Europe's residential developments for decades to come. And adding to that rising residential values, it seems that investing in such top-notch developments does not get any better than this.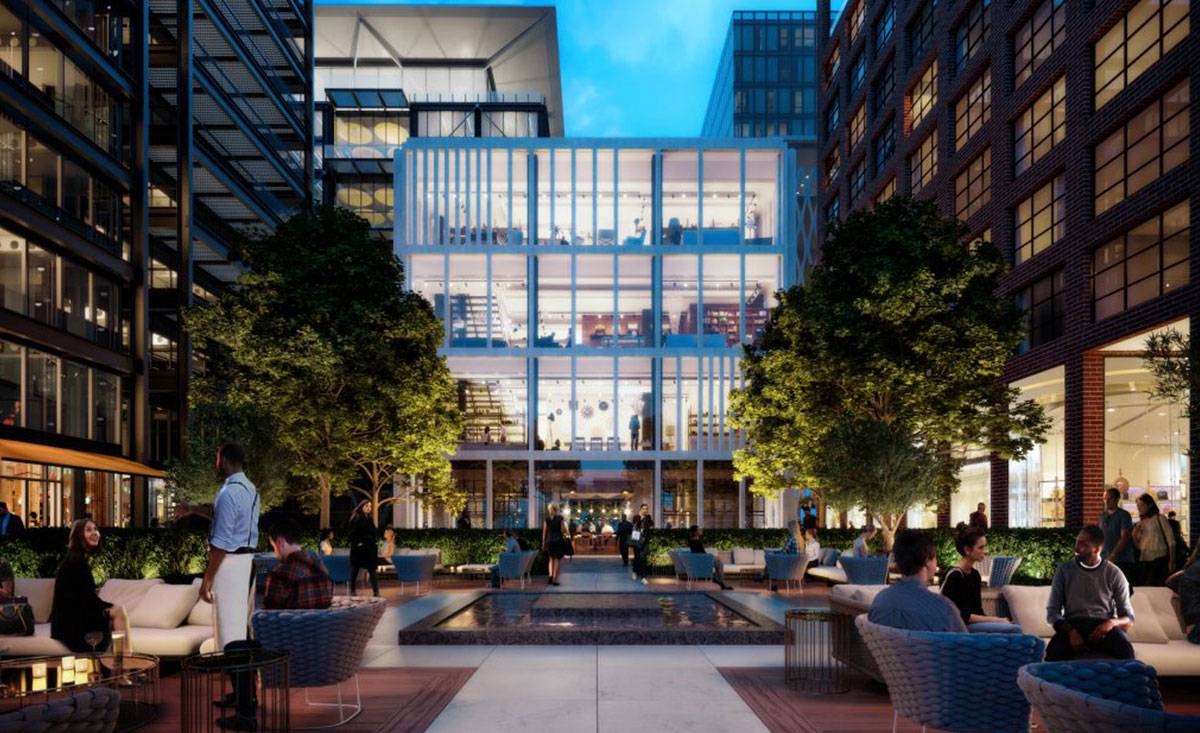 More than 70 per cent of the new homes at One Park Drive are sold out already. The prices start from £965k for the remaining apartments.
Was this article helpful?
Similar news you may like