Telford Homes developments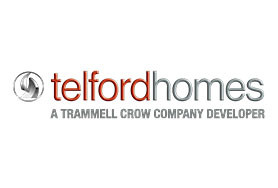 Telford Homes is a leading London-focused residential and mixed use property developer. We are a Trammell Crow Company developer that specialises in creating, designing and building innovative landmark developments in some of the most desirable and sought-after locations in the capital.
Quality and innovation
The emphasis of a Telford Homes project is always focused foremost upon quality, great connections and exclusivity. High specifications featuring some of the finest designer names, ensures that each individual property meets or exceeds the most demanding expectations. Architectural innovation and attention to detail ensures a true landmark development, which becomes a destination in its own right.
Our ongoing commitment to our customers and the developments we create to suit their lifestyle, has resulted in Telford Homes winning the outright award for Best Customer Satisfaction Initiative at the prestigious Housebuilder Awards.
Considerate constructor
Telford Homes is also proud to be partners with the Considerate Constructors Scheme. The Scheme is concerned about any area of construction activity that may have a direct or indirect impact on the image of the industry as a whole. The main areas of concern fall into three categories: the general public, the workforce and the environment.